Contacts
For Wyldes Noyse, King's Lynn Waites, The Fall of Eve,
Norfolk Gallery Quire, The Minister's Vision:-

Chris Gutteridge

Tel: +44 (0)1760 755993

Email: chris@wyldesnoyse.co.uk


For Wyldes Noyse, Colchester Waits, The Fall of Eve:-


Lizzie Gutteridge

Tel: (+44)01206 212466
Mobile: 07762 015645

Email: lizzie@wyldesnoyse.co.uk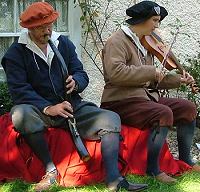 Join our mailing list to be kept informed of performances.

Email list@wyldesnoyse.co.uk including the word "join" in the subject line.

If you ever want to be removed from the list, send an email to the same address with the word "remove" in the subject line. As the list is run privately by White Cottage Websites, you will not receive unwanted adverts or spam, and your address will not be disclosed to any third party.