Concert Programmes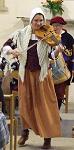 "The Dark Ages to The Age of Enlightenment"
popular music through the ages

A whistle-stop tour of tunes you can hum from the Middle Ages to the Age of Enlightenment. Travel through time in sight and sound with a selection of our favourite dances and songs, on appropriate instruments for each period and with accompanying costume changes!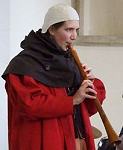 "Hare, Hare, Hye!"
Medieval

From the loud bass dance band to the courtly love songs and dances with driving rhythms and an eastern flavour and from the shawm and trumpet to the fiddle, lute and harp the Middle Ages provide a colourful array of sounds proving themselves to have been far from Dark.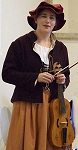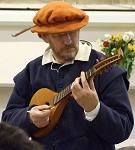 "Kings to Cuckolds"
Renaissance

The 16th Century was the golden Age of the Waits shawm band and saw a flourishing of music of all kinds. The Renaissance was a time of expansion and experiment for instrument makers, players and composers alike, and the beginnings of publishing of printed music provide us with a fantastic supply of musical material, from the highest courtly pavans to the sauciest of ballads.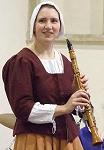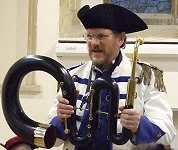 "The Fiddler's Tune Book"
pre-Victorian

During the 18th and early 19th centuries, in pubs and churches across the nation, the people of the British Isles kept music alive with their folk bands who were equally at home playing for the village dance, entertaining the gentry with the latest hit from London, and accompanying the West Gallery Quire on Sundays. With fiddles, clarinet and serpent we re-create some of their music.