Kings to Cuckolds
Sleeve Notes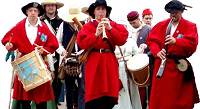 From the Middle Ages to the early 19th Century Waites bands entertained the populace of every important town, providing music for civic occasions, private parties and public concerts. Wyldes Noyse is a duo or small group drawn from members of the King's Lynn Waites, performing both ceremonial and popular music of the Middle Ages and Renaissance. In the streets, when pomp and ceremony were required, the shawm band, including shawms of various sizes as well as lysards and sackbuts, would have provided an impressive spectacle as the Waites, in their colourful liveries, played in 4 or 5 part harmony. Indoors, other instruments including strings and recorders would have been more suitable for chamber music and accompanying singing and dancing. This collection ranges from the regal to the downright earthy, as did the repertoire of 16th & 17th century Waites.

All tracks are arranged by Wyldes Noyse except 7 & 10 by James Merryweather.

Munster Clemens non Papa, 1556
Soprano shawms & lysard

This short 16th Century piece lends itself to the shawm band in procession and is becoming a favourite amongst revival waits bands across Europe, who, in true Renaissance style, have added parts and made arrangements of their own.

King's Pavyn Anon 16th C
Soprano & tenor shawms, sackbut

This stately pavanne comes from the court of King Henry VIII

Tourdion Pierre Attaignant d. c.1550
Harp

The tourdion was a type of dance, similar to the Galliard. This one is one of the most famous pieces published by Attaignant, a Parisian who inherited his publishing business from his father in law.

Pass Time With Good Company Henry VIII 1491-1547
Soprano & alto shawms, sackbut

A shawm band arrangement of one of Henry VIII's best known tunes.

Bransle Quatre Bransle Susato
Alto shawm & bagpipe

First published by Susato who played sackbut with the Stadspijpers (Waits) of Antwerp, this tune soon became popular here in England and may well have been played by Waits across Europe.


Belle Qui Tiens Ma Vie Thoinot Arbeau 1588
&amp Hellas Madame Henry VIII 1491-1547
Soprano &amp alto shawms, sackbut

Shawm versions of these well-known French courtly love songs. It is the alto line of Hellas Madame that Henry VIII is said to have written - played here in the final time through.


Allez a les Fougiers French 16th C
Viella & bagpipe

A French folk tune found embedded in a four-part chanson. The title refers to an invitation to a lady to join the poet in the ferns - what for is left to the imagination.

Scottish Bransle Pierre Attaignant d. c. 1550
Viella & drum

This lively bransle is unusual in that it is in 3/4 time and is longer and has a more complicated structure than the bransles published by Arbeau.

Horses Bransle Arbeau 1588
Soprano shawm & lysard

Probably the best-known of all Bransles, still danced to this day. This is definitely a concert performance, too fast for dancing!

Wilsons Wilde English, mid. 16th C
Descant recorder, bagpipe & lysard

We don't know who Mr Wilson was, or what, if anything, he may have been wilde about but we do know that the tune was used by Thomas Deloney when he needed to write a ballad in a hurry – he published his "The Queen's visiting of the Campe at Tilsburie with her entertainment there" within 24 hours of the event. We have added a line for lysard to James Merryweather's original arrangement.

Salterello Italian 14th C
Rebec & cittern

The salterello was an improvisational form where the player would create episodes between statements of the theme. It is introduced here by an intrada - a free exploration of the scale or mode to be used.


Masque Dance 16th C
Harp

A charming little tune played here on solo harp. A Masque was a form of courtly entertainment performed by professionals and courtiers to flatter a patron.

Bransle de Bourgogne, Thoinot Arbeau 1588
Pease Bransle & Bransle de Champagne
Viella & Lysard

Bransles were popular peasant dances with simple steps, often including mimed actions. Luckily for the modern musician Arbeau included several in his Orchesographie, along with the steps

Fortune My Foe English 16th C
Harp, voice, lysard & tenor shawm

This doleful ditty is mentioned in Shakespeare's Merry Wives of Windsor, and proved so popular that the tune was subsequently used for any song about murders or hangings, to the extent that it became known as "The Hanging Tune".


The Frog Galliard John Dowland 1563-1626
& La Volta Anon 16th C
Viella & cittern.

These two galliards date from the time of the court of Queen Elizabeth I, who was herself a keen dancer. La Volta is notorious as a favourite of the Queen who made it respectable despite its intimate embraces and undignified jumps when she danced it with the Earl of Leicester.

Martin Said To His Man Anon late 16th C English /William Byrd
Voices, soprano & alto shawms, lysard

This song about a man and his servant having a drinking contest and the improbable things the servant sees is still popular in folk clubs to this day. We follow it with our interpretation of William Byrd's keyboard arrangement, which is very nearly a different tune altogether.

Recercada Diego Ortiz 1553
Viella & lute

This piece comes from Ortiz's Tratado da Glosas – a tutor book on the composition of divisions. Based on a repetitive chord sequence similar to the famous Folia, it is full of energy and syncopated rhythms.

Watkin's Ale English 16th C
Voice, violin & cittern

No prize for guessing what Watkin's Ale is! This very bawdy song was extremely popular in Elizabethan times. In the instrumental section, the violin plays divisions.

Sellinger's Round & The Carman's Whistle 16th C (William Byrd)
Soprano shawm & lysard

These two popular pieces were arranged for keyboard by William Byrd and included in the Fitzwilliam Virginal Book. Our interpretations are based loosely on his versions.

The Maid of Lyn Pills to Purge Melancholy
Voice, violin & lute

A bawdy song typical of Pills to Purge Melancholy. The significance of the refrain is lost to the modern listener, and is not intended as a slur on the good name of the present-day maidens of King's Lynn.

Cuckolds All A-Row Playford 1651
Sopranino recorders, soprano shawms & lysard

The words to this scurrilous song are unfortunately lost. It is referred to in other songs of the period, such as London is a Fine Town from Pills to Purge Melancholy.
Lyrics:
14. Fortune, my foe, why dost thou frown on me?
And will my favours never greater be?
Wilt thou, I say, forever breed me pain?
And wilt thou ne'er restore my joys again?

Fortune hath wrought me grief and great annoy;
Fortune has falsely stole my love away.
My love and joy, whose sight did make me glad;
Such great misfortunes never young man had.



16. Martin said to his man
Fie, man, fie.
Martin said to his man
Who's the fool now?
Martin said to his man
Fill thou the cup and I the can,
Thou hast well drunken man,
Who's the fool now?

Saw a sheep shearing corn
and a cuckold blow his horn.

Saw the man in the moon
Cobbling of St Peter's shoen.


Saw a hare chase a hound
twenty miles above the ground

Saw a mouse catch a cat
And the cheese eat the rat.

Saw a goose ring a hog
And a snail bite a dog.

Saw a maid milk a bull,
At every pull a bucketful.



18. There was a maid this other day,
And she would needs go forth to play;
And as she walked she sighed and said,
I am afraid to die a mayd,
With that, behard a lad
What talke this maiden had,
Whereof he was full glad,
And did not spare
To say, faire mayd, I pray,
Whether goe you to play?
Good sir, she then did say,
What do you care?
For I will, without faile,
Mayden, give you Watkins ale;
Watkins ale, good sir, quoth she
What is that I pray you tel me?

Tis sweeter farre then suger fine,
And pleasanter than muskadine:
And if you please, faire mayd, to stay
A little while, with me to play,
I will give you the same,
Watkings ale cald by name,
Or els I were to blame,
In truth, faire mayd.
Good sir, quoth she againe,
Yf you will take the paine,
I will not refraine
Nor be dismayd.
He toke this mayden then aside,
And led her where she was not spyde,
and told her many a prety tale,
And gave her well of Watkins ale.

When he had done to her his will,
They talkt, but what it shall not skill;
At last, quoth she, saving your tale,
Give me some more of Watkins ale,
Or else I will not stay,
For I must needs away, -
My mother bad me play,-
The time is past;
Therefore, good sir, quoth she,
If you have done with me,
Nay, soft, faire maid, quoth he,
Againe at last.
Let us take a little while,
With that the mayd began to smile,
And saide, good sir, full well I know,
Your ale, I see, runs very low.


This young man then, being so blamd,
Did bluch as one being ashamede;
He tooke her by the midle small
And gave her more of Watkins ale;
And saide, faire maid, I pray,
When you goe forth to play
Remember what I say,
Walke not alone.
Good sir, quoth she againe,
I thank you for your paine,
For feare of further staine,
I will be gone.
Farewell, mayden, then quoth he;
Adue, good sir, againe quoth she.
Thus they parted at last,
Till thrice three months were gone and past.

This mayden then fell very sicke,
Her maydenhead began to kicke,
Her colour waxed wan and pale
From taking much of Watkins ale.
I wish all maydens coy,
That heare this prety toy,
Wherein most women joy,
How they doe sport;
For surely Watkins ale
And if it be not stale,
Will turne them to some bale,
As hath report.
New ale will make their bellies bowne,
As trial by this same is knowne;
This proverbe hath bin taught in schools,-
It is no jesting with sharp edge tooles.

Good mayden and wives, I pardon crave,
And lack not that which you would have.
To blush it is a womans grace,
And well becometh a maiden face,
For women wil refuse
The thing that they chuse,
Cause men shoud them excuse
Of thinking ill;
Cat will after kind,
All winders are not blind, -
Faire maydes, you know my mind,
Say what you will.
When you drinke ale beware the toast,
For therein lay the danger most.
If any heere offended be,
Then blame the author, blame not me.


20. On Brandon Heath in sight of Methwold steeple
In Norfolk as I rode along;
I met a Maide with apples laden,
And thus to her I urged my song:
Kiss me said I she answer'd no,
And still she cried I won't, I won't do so
But when I did my Love begin
Quoth she good Sir, quoth she good Sir,
good Sir, I live in Lyn.

'Twas Summer season then, and sultry weather,
Which put this fair maid in a sweat;
Said I come hither, let us together,
Go try to lay this scorching heat:
But she deny'd, the more I cry'd,
And answer'd no, and seem'd, and seem'd to goe;
But when I did my Love begin,
Quoth she good Sir, Quoth she good Sir,
good Sir, I live in Lyn.



To Kiss this Maiden, then was my intent,
I felt her hand, and snowey breast;
With much perswasion, she shew occasion,
That I, I was free to do the rest:
Then in we went and Six-pence spent,
I cry'd my Dear, my Dear, she cry'd forbear;
But when I did my Love begin,
Quoth she good Sir, Quoth she good Sir,
good Sir, I live in Lyn.

Three times I try'd to satisfie this Maiden,
And she perciev'd her Lovers pain;
Then I wou'd go, but she cry'd no,
And bid me try it o're agen:
She cry'd my Dear, I cry'd forbear, Yet e'er we parted fain wou'd know,
Where I might see this Maid agen,
Quoth she good Sir, Quoth she good Sir,
good Sir, I live in Lyn.


Instruments:

Chris Gutteridge: lysard (Christopher Monk), sackbut (Frank Tomes), cittern (Ken Baddley) lute and percussion

Lizzie Gutteridge: soprano, alto & tenor shawms (John Hanchet), sopranino & descant recorders (Moeck), rebec (Peter Forrester), viella (Stuart Austin), and harp (Early Music Shop)

Deborah Cooper: soprano shawm (John Hanchet), sopranino recorder (Moeck) and bagpipe (Jim Parr)

© 2008 Wyldes Noyse 2008 Wyldes Noyse

Recorded by Stewart Orr Sound Services.

home